Tema Voip Speaker Systems
Network LAN speaker for Paging and Communication




Brochure
Applications, Target
Video surveillance: warning deterrence to malicious people under video control area
Companies, Offices, Factories, Warehouses, Industry
Warehouses, Garage, Supermarket, Parking
Outdoor public areas
Alarm and warning systems
Hospitals, Schools, Railway Stations, Airports, Ports
Default Peer to Peer Application
The application does not require the presence of an IP-PBX and the presence of the on-site 220V network (within 100mt from the switch). Each IP Speaker can be reached by SIP phones that can launch an ad. Speakers power travels on the same UTP cable coming from the PoE switch. Thanks to the integrated microphone in the speakers, you can hear the sound of the zone of the respective speaker. The 2 relays embedded in the speaker can be operated by the IP phone that originated the call to operate accessory services.



Application with IP-PBX or Peer to Peer
Each IP Speaker can be reached from SIP phones, Smartphone and other registered terminals in the IP-PBX that can launch ads. The integrated relay can be operated from the SIP phone that originated the call. With a Network PC with installed the free software TEMA "Videoconsole" it is possible to make calls to IP speakers. If the free software "VLC" is also installed, it will possible to send on Streaming Audio speakers multicast channels, interrupted by ads as background music. In each AD600 series speaker, it is possible to independently adjust the audio volume reproduced via LAN thanks to the integrated web server.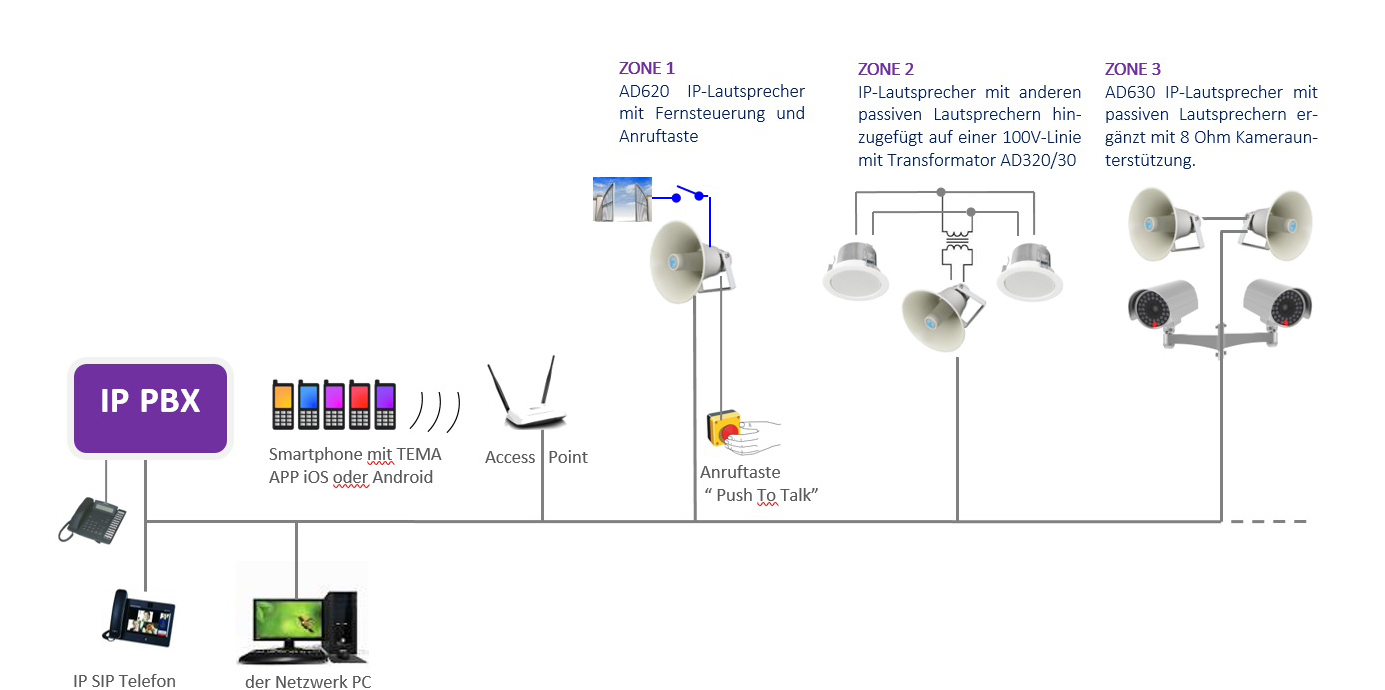 Audio signal relaunch application
The application shows how it is possible to serve a zone (Zone 3) that is more than 300 meters since the last IP Horn boosting the audio signal to another amplifier avoiding to extend the LAN network where It is not necessary. The power supply for the IP Horns can be provided by the PoE switch or by local power supply 220Vac/12-24Vdc. The remote amplifier is powered with the local 220Vac/12-24Vdc power supply.


Show 1 to 20 (from a total of 23 products)