OpenScape Business License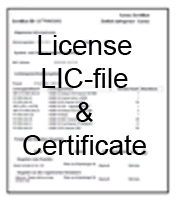 Licenses are categorized thematically into license groups. The following license groups are available:
Basic licenses (Base license)
Station licenses
Voicemail licenses
User licenses
System licenses
The licenses for the OpenScape communication system are structured as follows:
A basic license permanently activates the software of the communication system. This basic license is also required for activating all other licenses.
Station licenses activate the phones for external voice communications.
User-oriented licenses to unlock specific user features.
System licenses to unlock general system-wide features
OpenScape licensing via:
Locking ID (MAC ID)
Advanced Locking ID (virtual MAC ID)
Advanced Locking ID from Customer License Agent, CLA
You will receive a LIC file. This is entered in the Web Based Management (WBM).
The CLA we can provide for download.
Show 1 to 20 (from a total of 33 products)