OpenScape Business X8 (stand and rack)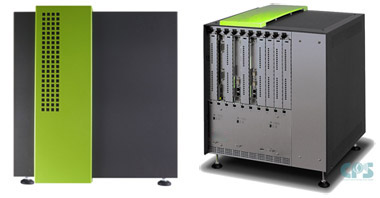 OpenScape Business X8 is a modular communication system that can be used as a one-box system (base box) or a two-box system (base box + expansion box). OpenScape Business X8 can be installed as a standalone unit or mounted in a 19-inch rack.
Unify OpenScape Business X8 = Telekom Octopus F X8
The base box has 9 slots, and the expansion box has 13 slots for peripheral boards.
The central control board OCCL has a fixed slot (slot 6, only in the base box). The UC Booster Card (OCAB) is mounted on the mainboard. Depending on your requirements, up to three LUNA2 power supply units can be used in the base box and up to four in the expansion box (see the Service manual for details). LUNA2 supports power supply and battery management functions. No other components are required if it is operated as a power supply. To maintain short-term battery emergency operation after a power failure, that is, to use uninterruptible power supply functions, you must also connect the OpenScape Business Powerbox for each system box.
Show 1 to 20 (from a total of 25 products)